The Boxing Battles Of David Haye
By Steffen Ploeger
British professional boxer David Haye is on a comeback tour to prove once again he is one of the world's most impressive and dangerous boxers. Haye is setting his sights on a world title shot against the current world heavyweight champions after a short lived retirement from the sport. But plans are in motion for a British heavyweight showdown between Haye and Tyson Fury in what boxing pundits and bookmakers label as "the most natural heavyweight fight out there."
Haye became the World Boxing Association (WBA) heavyweight champion in 2009 in an impressive defeat of Nikolay Valuev. The champion defended his title against both John Ruiz in 2010, and later Audley Harrison in 2011. Following the Harrison fight, Haye planned to fulfill a long term promise he made to retire from boxing at the age of 31.
However, an opportunity presented itself to unify his WBA championship title with the International Boxing Federation (IBF) and the World Boxing Organization (WBO) in a fight with champion Wladimir Klitschko in July, 2011. Haye put his retirement plans on hold to challenge Klitschko, and unify all three boxing championships as his own. Klitschko impressed the judges against Haye, and declared the Ukrainian boxer the undisputed heavyweight champion of the world.
Haye retired after the loss, but remained involved in boxing by attending notable matches, including the World Boxing Council (WBC) championship fight in February, 2012. The WBC match was between champion Vitali Klitschko, brother of Wladimir, and challenger Dereck Chisora. Following the fight, Chisora and Haye got into a shouting match with the former calling the latter out of retirement.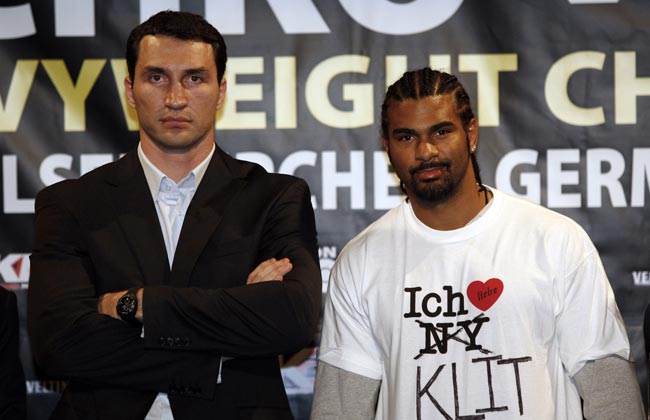 Haye initially stated he would only come out of retirement to fight the Klitschko brothers, but agreed to face off against Chisora in July, 2012. In the fifth round of a particularly grueling battle given the mutual animosity, Haye defeated Chisora with a knockout punch, and the referee put an end to the fight.
Following his reemergence in the ring, Haye wanted to take on the Klitschko brothers to redeem his reputation. But fight promoters are setting up a British battle with Tyson Fury that could eventually lead to a heavyweight title fight against the Klitschkos. Details on the upcoming match with Fury can be found here.