Mikey Garcia Bringing Old School Style To A New Boxing World
By Stella Kessler
Can he float like a butterfly and sting like a bee? Well, Mikey Garcia may not be Muhammad Ali but he could very well be as near a boxer as the legend. He has his philosophy right: Unless you are ready to make sacrifices, you cannot be the best at what you do! Holidays mean stuffing yourself in the extreme for ordinary mortals; not for someone like Mikey Garcia. Robert Garcia Boxing Academy in Oxnard, California is where he is training hard in order to meet Juan Carlos Burgos in the 12 round super featherweight fight. Enjoying holidays was too tempting for the other fighters who left but Garcia is made of sterner stuff. He chose to stay at the training camp. His training mates were some local guys.
Family Concern
Garcia is special. He has a heritage to be proud of: His father Eduardo Garcia and brother Robert are reputed boxers but in a limited way. Garcia could only up the ante and go on to win WBO super featherweight title. He is a graduate from Oxnard Community College and Ventura County Police Reserve. But, he is not one to rest on his laurels. People's praise and accolades hardly register in his mind. He does not let the praise interfere with his goal and goes on unhindered.
Good Advice
His no-nonsense attitude remains the same in the ring and outside it. Winning does not stop him to reflect upon it but eggs him on to better things. His father's and brother's advice never fades from his mind: "Keep winning".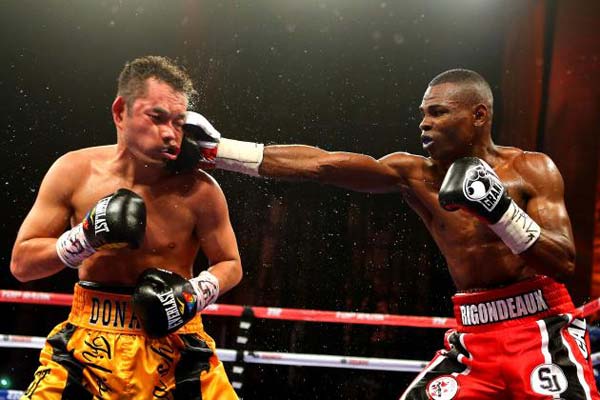 Goal as Aim
His brother Robert doubles as his trainer. Robert and Eduardo are always at Mikey's corner to lend him a helping hand during fights. Mikey is happy that his father and brother are with him because they know his capabilities and how his past experiences can guide him through difficult patches during a match. It is not often that a family team works without limitations that are inherent in such a team. Mickey is lucky in having a perfectly understanding father and brother for his team. In addition to the three, a fourth member, Alex Ariza looks after the strength and conditioning co-ordination. Aria is no stranger to controversies but he finds favor with Garcia. Garcia is clear about why he wants Ariza. If Ariza can help him become a better fighter, that is all that matters to him.
If he reminds you of the old school fighters, you are not the only one who thinks that. Not for him the tentative and experimental punches. He goes all out and sends aggressive waves all over. He keeps honing his skills and seems to acquire more and more power. The only goal he has his eyes on is to win. This trait in him was perceived in the beginning itself by discerning watchers and it seems to improve with each passing day. He does not flinch from studying the techniques of his opponents unlike many other vanity-driven fighters who dismiss the idea out of hand. He knows he can gain critical knowledge by closely following the fights of his opponents.
Is it any wonder that Mickey Garcia looms large on the rings?
Written By:
Stella Kessler says she could do anything to get her hands on some deals that gave out Super Bowl Tickets for sale and has been listing all campaigns that give out these as prizes. She also works as an infographics designer 99dollarinfographic is where you can have a look at her work.