Donald Sterling vs. Floyd Mayweather
By Aaron Saas
This past weekend, private anti-black comments made by long-time Los Angeles Clippers owner Donald Sterling were made public. As a result NBA commissioner Adam Silver has decided to ban Sterling from the NBA for life.
Sterling's comments have been a hot issue over the last couple of days, and you can't watch an NBA playoff game or anything NBA related without hearing about it. Players around the league have silently protested Sterling this week, and will likely continue to silently protest him throughout the duration of the postseason.
The two biggest silent protests, which have been Clippers players wearing their warm up shirts inside out, and all of the players wearing black socks have been somewhat cringe-worthy, and it all seems forced and phony. If the Clippers players want to really protest Sterling, refuse to play in any games as long as he's the owner, and refuse to take a paycheck from him. Anything other than that is fake martyrdom.
It's likely that Sterling will be forced to sell the team, which is a good thing. Not only because he seems to be anti-black in a league that's nearly 80 percent black, but also because he's been an incompetent owner for the majority of his tenure as the Clippers owner. It's only these last couple of years where the Clips didn't screw up their number one draft pick and selected Blake Griffin, but they were able to land Chris Paul and turn into a legitimate title contender.
With Sterling likely having to sell the team, the question is who's going to purchase the team? Well there have been several names floating out there. But the most noteworthy name is Floyd Mayweather, Jr.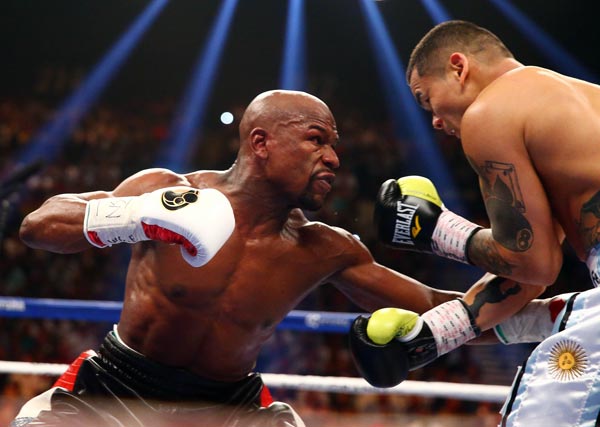 Mayweather made it clear in a press conference at the MGM Grand earlier this week while promoting his upcoming fight this weekend with fellow welterweight title holder Marcos Maidana that he would love to be the new owner of the Clippers, and intends to seriously pursue becoming the new owner.
There's no doubt that Floyd definitely has the money to buy the team as he's by far the highest paid athlete in the world. He also attends Clippers games at the Staples Center on a regular basis, so you would think he knows the team very well.
"When I'm not boxing, I'm at the games all the time." Said Mayweather. "We do want to buy the Clippers. Me and my team do want to buy the Clippers and we can afford the Clippers."
The next question would obviously be would Mayweather be a competent owner? He does only fight twice a year, but he does need a lot of preparation time for those fights. So would he be able to really dive into being the new Clippers owner and give it his full attention? Unless he retires from boxing which I don't believe he will anytime soon because he has at least 3 more fights left on his deal with Showtime, he should stay away from the Clippers. Of course whether that will happen or not is anyone's guess; check out these free boxing picks to see if the Vegas betters have an opinion.
It's likely that Floyd is just saying this to get even more press and promotion for his fight this weekend, and if he wins on Saturday (which I fully expect him to) this story will likely go away. Floyd is a smart guy, and I would imagine he knows that he doesn't have the time and energy to be an NBA owner.
Regardless of who becomes the new owner of the Clippers, though, the change will be for the better. Other potential/more serious candidates to buy the team include Magic Johnson, and real-estate tycoon Rick Caruso.
If you wife or girlfriend get's annoyed with your boxing fetish, make it up by indulging her shoe fetish at Nine West.